Product Characteristics
Dimensions (L x W x H): 151 x 19 x 15mm
Weight: 30g
Battery Life: All day in typical use, one year in standby
Charging Time: 2.5 hours (typical)
Test Signal Specification
Test Frequency: 100Hz, 120Hz, 1kHz, 10kHz, 100kHz
Test Voltage: 0.2Vrms/0.5Vrms/1.0Vrms
Source Impedance: 100Ω
Measurement Range
Resistance: 25mΩ to 10MΩ
Capacitance: 0.25pF to 1mF
Inductance: 10nH to 1H
Basic Accuracy
Resistance: 0.1%
Capacitance: 0.2%
Inductance: 0.2%
Trust the Pro for Your LCR Measurements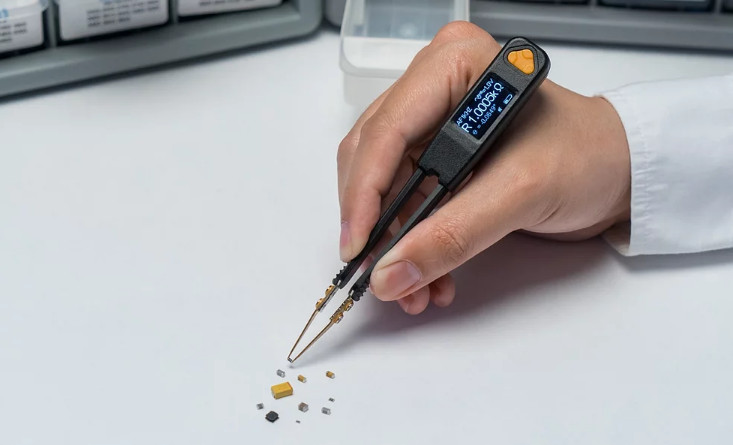 LCR Pro1 integrates a pair of tweezers like probes and a LCR meter into a single compact, lightweight, battery powered device. It is an all-in-one portable device that provides a simple and efficient solution for not only measuring SMD components, but also making in-circuit debugging.
LCR Pro1 is an ideal device for many applications including components verification and sorting, production lines, laboratory and service center, in-field repair and more.
Key Features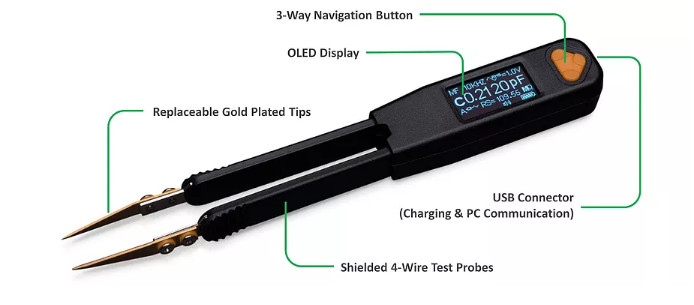 Easy operation – one hand use, full set of shortcuts
Fully auto/manual selection
High accuracy – R: 0.1%, L: 0.2%, C: 0.2%
5 test frequencies – 100Hz, 120Hz, 1kHz, 10kHz, 100kHz
3 test voltages – 0.2Vrms, 0.5Vrms, 1.0Vrms
Multiple functions – R, L, C, Z, ESR, DCR, D, Q, θ, etc.
Small size – 151 x 19 x 15mm
Large OLED display – 0.96″, 128 x 64 resolution
Ultra precise gold plated tips
Rechargeable LiPO battery with USB charging
PC remote control for data logging and programming
Additional functions – sorting, recording, diode and continuity
A Breakthrough in Accuracy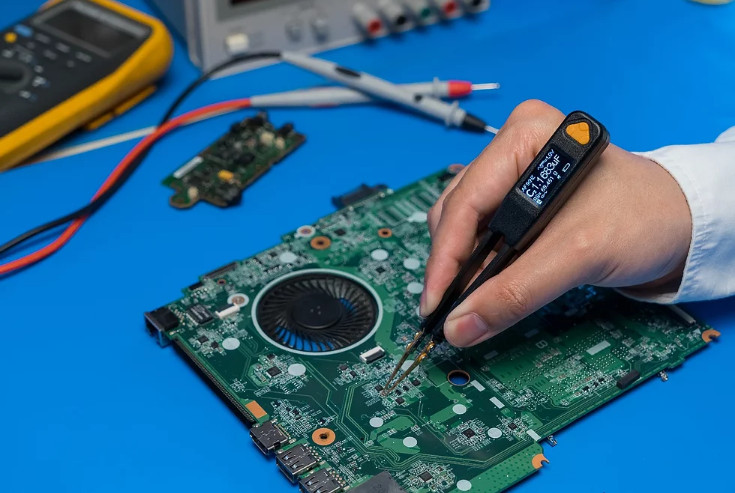 LCR Pro1 delivers high accuracy once found only in high-end desktop LCR meters. It provides basic accuracy 0.1% for resistance and 0.2% for capacitance and inductance with 5-digit resolution. Each device is fully calibrated during production and shipped with NIST (National Institute of Standards and Technology) traceable calibration certificate.
The test frequencies can be selected from 100Hz to 100kHz. 100kHz is ideal for measuring small inductance under 1uH. The test voltage can be selected from 0.2Vrms to 1.0Vrms. 1.0Vrms allows precision measurements of ceramic capacitors with high dielectric constant (K), such as X5R type. 0.2Vrms is specially designed for in-circuit debugging because it is low enough to prevent the silicon chips from being active during measurement.
Ultra-Precise Tips
The redesigned gold-plated tips are more precise than ever. You can use them to pick up and measure SMD components quickly and reliably, even for parts down to sizes of 01005. Thanks to the precise tips, you can easily reach the component under test without touching the adjacent components during in-circuit troubleshooting even in a very crowded area.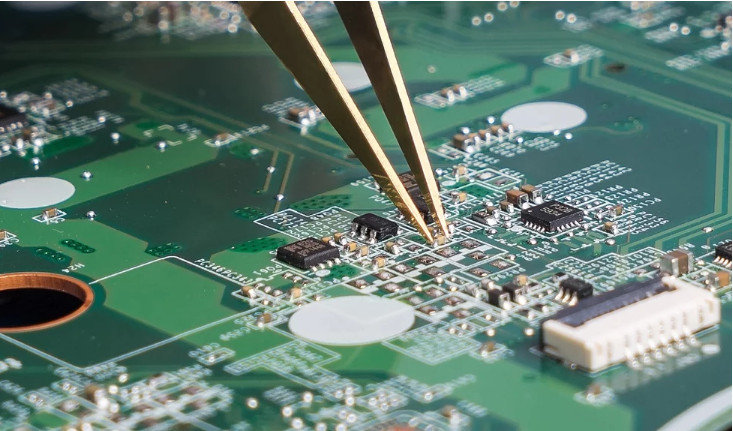 High Definition User Interface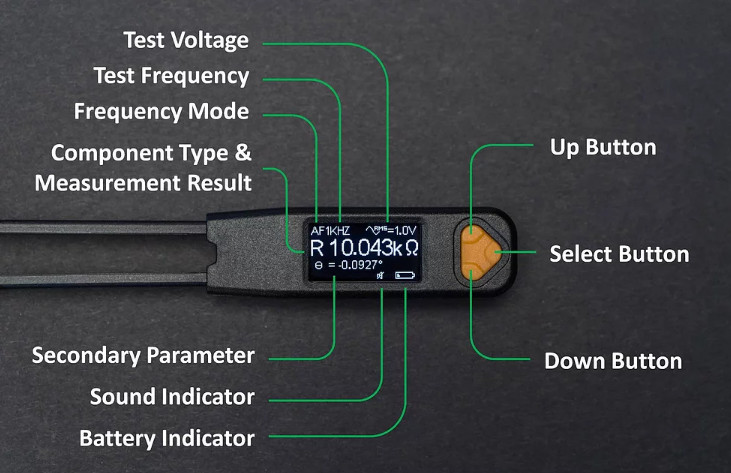 LCR Pro1 comes with a 0.96″ OLED display, doubling the size of its predecessor's 0.91″ display. The pixels are doubled as well from 128*32 to 128*64. Larger font and more information can be displayed for you to read the results and navigate the menu more conveniently.
LCR Pro1 is full of handy shortcuts to help you switch all kinds of parameters faster and easier. During measurements, you can quickly select different settings by single clicking, double clicking or holding the navigation button.
PC Communication
LCR Pro1 is able to make measurements and charge its battery simultaneously when it connects to a PC via the Link1, a USB dongle style communication module. Using the LCR Data Logger software, you can remote control the device from a PC for parameter setup, programming and data logging.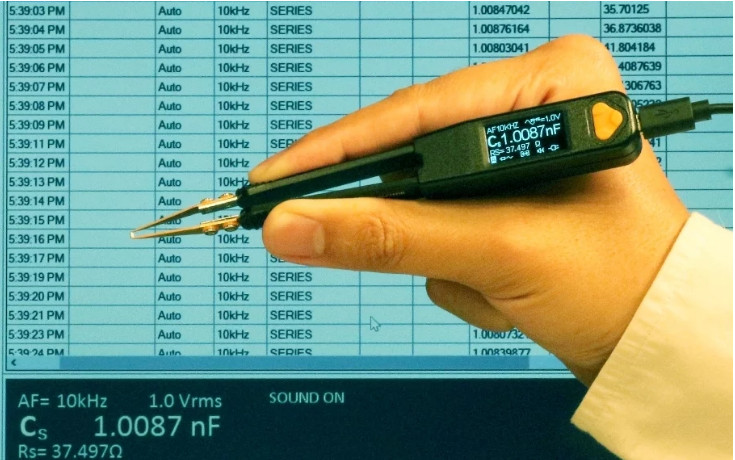 What's in the Box
LCR Pro1 Portable LCR Meter
Storage Box
Quick Start Guide
NIST Certificate
USB Cable
LCR Link1 (Optional)
Step 1: Visit the website and select the product to buy
Step 2: Click and the product you want to buy, the pop up display with the following options If you want to continue shopping: Click on Continue shopping to add products to your cart
If you want to view cart to update product: Click view cart
If you would like to order and pay for this product please click: Order and payment
Step 3: Select your billing account information
If you already have an account, please enter your username and email address into your account
If you do not have an account and want to register an account please fill out the personal information to continue to register account. Once you have an account you will easily track your orders
If you want to make a purchase without an account, please click on the order without account
Step 4: Fill out your information to receive your order, Select payment and shipping method for your order
Step 5: Review your order information, fill out an order and send an order
After receiving your order you will contact us by calling back to confirm your order and address.
Special thanks.
Wishing to bring satisfaction to you when making a purchase, We have regulations in shipping, To ensure that the product you buy is the product that most satisfied.
1. We will be made and delivered based on the selected customer sample. In case there is no correct product you require we will call confirm send similar products instead.
2. The standard delivery time for an order is 12 hours from the time the order was placed. Deliver products to inner city areas nationwide from 4 hours from receipt, Delivery within the day to the neighborhood (Radius from 10km – 50km).
3. Orders shipped internationally: Not sure the time is exactly as requested, Do not guarantee time if the delivery time coincides with the holidays, Tet and Sunday at the destination area.
4. Where there is no contact with the recipient, The recipient is gone:
- If we do not know the address we will save it within 6 hours and contact the recipient again, In case of non-contact the order will be canceled and no refund will be made.
- If the address is company, office, home… We will send colleagues, Relatives accepted and signed
- In a safe place, the recipient is noticeable at home, office, company… This case has no signatures.
5. In case the recipient does not accept the order:
- We will cancel the order. This case will not be refunded.
6. In case of incorrect address, change of address:
- Not the correct address: In the case of the wrong address we will save 6 hours and contact the sender and receiver to agree on the place and time, if the new address is not more than 3km will play free. In cases where the new address is more than 3km, additional charges will be applied according to delivery regulations.
7. Where the recipient does not exist at the requested address: Orders will be canceled and non refundable.
8. We do not ship products to addresses on trains, planes, ships, dangerous areas, restricted areas…